FREE SHIPPING on orders over $75!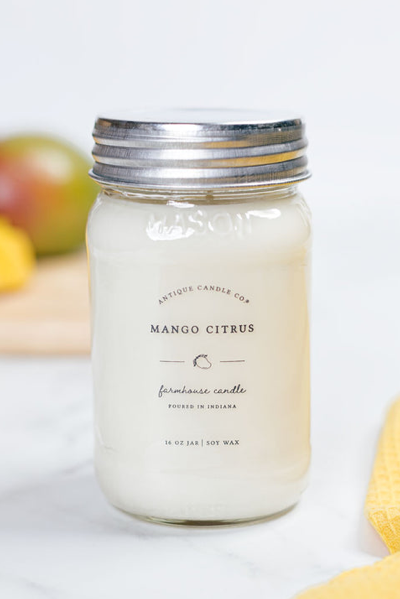 Mango Citrus - Antique Candle Co. Candle
$ 29.95
We have run out of stock for this item.
Add a stunning modern farmhouse touch to your home with our large Mason Jar Candle. Topped with a stylish galvanized metal lid, this decorative hand-poured soy candle makes for a perfect accent to any room, and doubles as a beautiful gift!

Mango Citrus is a vibrant, sweet medley of fresh mango, pineapple, and orange highlighted by soft notes of tropical florals and vanilla.
Every 16 oz candle is made with wax from natural, domestically grown soy beans, hand-picked fine fragrance oils, and a natural cotton wick for a clean, long-lasting, and even burn.


APPROXIMATE BURN TIME: 80 hours
SUGGESTED BURN TIME: 3-4 hours per burn for maximum longevity and quality
WEIGHT: 16 oz
DIMENSIONS: 5" x 3" x 3"
***Shipping will be $5 flat rate on candles unless total order value exceeds $65***